DESCRIPTION
The KP-5HVX8-65 8-Port 65° 5 GHz Sector Antenna features dual-horizontal/vertical-polarization with a 65° azimuth beamwidth and eight ports, all within a single 34-inch radome. It delivers high gain over a wide bandwidth of 4.9 GHz to 6.4 GHz with up to 17.5 dBi gain at 5.9 GHz. This 8×8 MIMO sector antenna is supplied with a robust, universal adjustable bracket with wide U-bolts for mounting on poles or tower legs up to 3.5-inches in diameter.
This innovative sector antenna from KP Performance (KP-5HVX8-65) has eight 5 GHz ports with collocated patterns all facing in the same direction. Connecting two four-port radios provides additional redundancy and can be leveraged to increase capacity by using separate channels on each radio. Pairing the sector with two of Mimosa's A5C radios (4 ports each) provides an additional +2 dBi beamforming gain, which allows for extremely long shots with Mimosa's high client speeds. Four of these antennas mounted to a tower provides complete 360° coverage which can be increased to six antennas for more dense applications.
Note: This 8-port sector antenna is specially designed to fit 2x Mimosa A5c radios (4-ports each radio), but will work with other 4-port 5 GHz radios.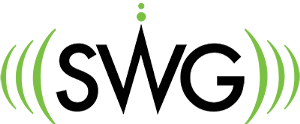 Why Choose SWG?
Top-Notch Support. When you have a problem that you and your team cannot solve, our knowledgeable engineers are on-call to help you solve the issue. We carry all major brands of fixed wireless equipment including Cambium Networks, Telrad, Mikrotik, Ubiquiti, and more. Because we offer both New and Certified Pre-Owned, we have solutions for every budget!