DESCRIPTION
4.9 GHz to 6.4 GHz, 2-Foot Parabolic Dish Antenna with N-Type connectors
This ProLine Parabolic Antenna is engineered to suppress side-lobes and back-lobes and are excellent at rejecting interference. These parabolic antennas maximize the potential of your radio by improving signal strength and reducing the noise floor in your link. Our parabolic antennas are perfectly suited for high density point-to-point client-premises or backhaul applications.
The KP-5PDN-2 is a 2-foot, 29 dBi parabolic antenna operating from 4.9 GHz to 6.4 GHz. This 2-port parabolic antenna features H/V or ±45° slant polarization options and boasts excellent front-to-back of 40 dB.
Features
*Stable gain over ultra-wide bandwidth of 4.9 GHz – 6.4 GHz
*Optimized F/B & side-lobe suppression minimizes interference
*Built-in universal pipe-mount bracket for connectorized radio mounting directly to back of dish
*Patent Pending Quick-Connect Waveguide technology
*Installs in minutes to reduce service calls and installation time
*Quick connect waveguide allows rapid change of polarization
*Integrated handle / hoisting hook for added safety and convenient installation
*Heavy-duty bracket with fine elevation and azimuth adjustment
*Mounts to any size mast from 0.75″ to 4.5″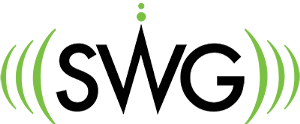 Why Choose SWG?
Top-Notch Support. When you have a problem that you and your team cannot solve, our knowledgeable engineers are on-call to help you solve the issue. We carry all major brands of fixed wireless equipment including Cambium Networks, Telrad, Mikrotik, Ubiquiti, and more. Because we offer both New and Certified Pre-Owned, we have solutions for every budget!