DESCRIPTION
Omnidirectional antennas communicate in 360 degrees while the sector antennas cover slices of 90 degrees, 120 degrees or 180 degrees. Generally Omni's are used in less densely populated areas and sectors are used in more heavily populated areas.
The omni-directional antenna systems offered by Laird Technologies are constructed of UV-stable fiberglass with all stainless steel brackets standard. They come standard with type N female bulkhead connectors with extra heavy duty nuts for optional standoff type mounting.
Tech Note: Horizontally Polarized (HPOL) antennas are useful in areas where there is a lot of interference. The HPOL technology offers very good interference rejection of VPOL signals.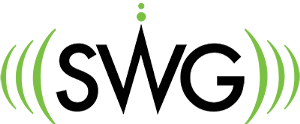 Why Choose SWG?
Top-Notch Support. When you have a problem that you and your team cannot solve, our knowledgeable engineers are on-call to help you solve the issue. We carry all major brands of fixed wireless equipment including Cambium Networks, Telrad, Mikrotik, Ubiquiti, and more. Because we offer both New and Certified Pre-Owned, we have solutions for every budget!