DESCRIPTION
The KPPA-5GHZ-DPOMA-MT is a 5 GHz 13 dBi dual polarized H/V Omni antenna with an integrated Cambium PMP radio mount. Using an omni antenna like this is a practical solution when you are setting up a new tower and cannot justify the cost of putting up 3, 4 or more radios and sectors.
If you only require a radius of 5 to 6 miles, the KPPA-5GHZ-DPOMA-MT omni antenna may be the solution you are looking for. This omni antenna utilizes dual polarized H/V and works well with the Cambium PMP-series equipment. This Omni antenna is equipped with a versatile pipe-to-pipe style mount. These dual pol H/V omnis will provide you a very consistent pattern with no null zones.
Features
* Metal case protects your RF connections
* Out performs our competitors by 1 to 3 dBi
* Functional easy-to-install mounting bracket
* Flexible LMR 195 cables provided
* Stainless steel hardware
* Cost effective all in one Omni Antenna solution with specially designed PMP mount attached
NOTE: Radio case can be taken off by removing 4 small screws. Case will fit Cambium PMP or Ubiquiti Rocket Radio.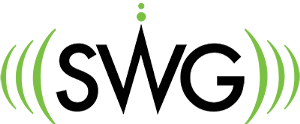 Why Choose SWG?
Top-Notch Support. When you have a problem that you and your team cannot solve, our knowledgeable engineers are on-call to help you solve the issue. We carry all major brands of fixed wireless equipment including Cambium Networks, Telrad, Mikrotik, Ubiquiti, and more. Because we offer both New and Certified Pre-Owned, we have solutions for every budget!