DESCRIPTION
FEATURES:
* Designed for use as a high gain mobile antenna or medium gain access point
* Spring loaded base is flexibile for mobile use minimizing breakage
* 802.11b and 802.11g compatible
* Male N-connector for easy installation
* Compact gain antenna for point-tomultipoint applications
* Heavy duty fiberglass
* Weather proof for indoor or outdoor installation
MOUNTING OPTIONS:
* GR-5N: Mobile lip mount
* 5D4N: 5/8 inch hole mount
* MB-100: 1"-2.5" mast mount
SPECIFICATIONS:
* 2400-2500MHz
* Gain: 7.4dBi
* Length: 17.5 inches
* Weight: 4.7 oz
* -3dB Beam-width: 20 degrees
* Cross Polar Rejection: 15dB +
* Max Power: 50 watts
* Max wind survival: 150MPH +
* Wind Load: 7.1 sq in
* Connector: Integral N-male
* Radome: Black UV stabilized fiberglass
* Mast mounting hardware optional
* Mobile lip mount optional
* Mobile permanent mount optional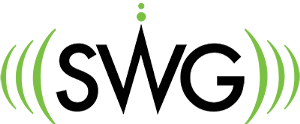 Why Choose SWG?
Top-Notch Support. When you have a problem that you and your team cannot solve, our knowledgeable engineers are on-call to help you solve the issue. We carry all major brands of fixed wireless equipment including Cambium Networks, Telrad, Mikrotik, Ubiquiti, and more. Because we offer both New and Certified Pre-Owned, we have solutions for every budget!