DragonWave Horizon Compact + 23GHz PLHP23B2SXR2
Call for availability 888-490-3645
| | |
| --- | --- |
| Weight | 14 lbs |
| Dimensions | 12 × 12 × 8 in |
| Condition | Certified Pre-Owned |
| MPN | |
| Product Type | Point-to-Point (PTP) |
DESCRIPTION
ALL-OUTDOOR HIGH CAPACITY PACKET MICROWAVE
SERVICE PROVIDERS CAN NOW DO MORE OUTDOORS WITH THE ZERO FOOTPRINT HORIZON COMPACT+ FROM DRAGONWAVE.
This high capacity packet microwave system delivers big performance in a small package. Because the radio and modem are integrated into a single highly compact outdoor unit, Horizon Compact+ is a zero footprint solution – eliminating rack congestion and minimizing collocation space. Equipped with DragonWave's Bandwidth Accelerator technology, the Horizon Compact+ achieves the highest degree of spectral efficiency, delivering more capacity per channel than any other all-outdoor microwave system.
With unmatched radio performance, simple installation and operation, as well as sophisticated remote management capability, the Horizon Compact+ delivers significant lifecycle cost savings for service providers and enterprises alike.
This innovative, carrier-grade packet microwave solution operates in licensed or unlicensed spectrum from 6 to 60 GHz.
SOLUTION HIGHLIGHTS
Zero footprint, fully integrated all-outdoor unit
1 to 2 Gbps capacity with DragonWave's Bandwidth Accelerator
Up to 2048QAM modulation support
Service aware Hitless Automatic Adaptive Modulation (HAAM)
SyncE support and optimized transport of 1588v2
Pay-as-you-grow with automatic remote scalability
Integrated 256-bit AES encryption; FIPS 140-2 Certified
Comprehensive Ethernet OAM support (802.3ah, 802.1ag, Y.1731)
Advanced QoS support with 8 levels of prioritization
Comprehensive management and provisioning with Netviewer
NMS
Lowest total cost of ownership solution
KEY APPLICATIONS
Mobile Backhaul
Leased Line Replacement
Last Mile Fiber Extension
Private and Enterprise Networks
FREQUENCIES
6 GHz FCC/IC/ETSI/ITU
11 GHz FCC/IC/ETSI/ITU
13 GHz ETSI/AUS/NZ/ITU
15 GHz IC/ETSI/AUS/NZ/MX/ITU
18 GHz FCC/IC /ETSI/AUS/NZ/ITU
23 GHz FCC/IC/ETSI/AUS/NZ/ITU/MX
24 GHz DEMS
26 GHz ETSI
38 GHz FCC/ETSI/AUS/NZ/MX
60 GHz UNLICENSED
FEATURES
Capacity w/Accelerator Variable from 10 to 1000 Mbps full duplex CIR
2x capacity up to 2 Gbps with Dual Pole Radio
Mount (DPRM)
Base Capacity Variable from 10 to 500 Mbps full duplex CIR
2x capacity up to 800 Mbps with DPRM
Latency GigE 120μs @ 256QAM. 50 MHz
Modulations QPSK to 2048QAM
Modulation Shifting Yes, Hitless
Loopback Yes, Radio loopback
Encryption Integrated 256-bit AES encryption
POWER
Input -40.5 VDC to -56 VDC or
+40.5 VDC to +56 VDC
Optional Adapter 110/240 VAC
Consumption* 6 GHz 55W
11/13/15 GHz 47W
18 GHz 49W
23 GHz 48W
38 GHz 43W
*Measured at the radio with 30M of CAT5E cable and 48V input to PonE.
MECHANICAL
Radio/Modem (without antenna)
10.2 cm x 24.3 cm x 22.1 cm; 3.4 kg
4" x 9.6" x 8.7"; 7.5 lbs
Power Adapter 15 cm x 7 cm x 3.5 cm
5.91" x 2.76" x 1.38"
Interface 2 x 10/100/1000bT (Optical SFP available)
Antenna Wind Loading 112 kph (70 mph) operational, 200 kph (125 mph) survival
Antenna Mount
Adjustment
+/- 45° Azimuth; +/- 22° Elevation
CONNECTIONS
Power -48V, Power on Ethernet
Payload (+ Inband NMS) RJ45 or optical LC
NMS (when out-of-band) RJ45
NETWORK MANAGEMENT (NMS)
Alarm Management SNMP Traps, Enterprise MIB
NMS Compatibility NetViewer
Security 3 Level Authentication
EMS Web Based Management, SSL HTTP, SSH, Radius, Telnet, sFTP
ENVIRONMENTAL
Operating Temperature -40°C to + 60°C (-40°F to +140° F)
Humidity 100 % Condensing
Altitude 4500 m (14,760 ft)
Water Tightness Nema4X, IP66 (directed hose test)
Operational Shock ETSI 300-019-1-4; 5g 11ms
Operational Vibration ETSI 300-019-1-4 Class 4m5, NEBS GR-63
Earthquake NEBS GR-63
ETHERNET
Packet Size 64 to 9600 Bytes
Flow Control Yes
Prioritization 8 levels served by 8 hardware queues, based on
802.1p/q, MPLS, DSCP ToS Bits
Synchronization Synchronous Ethernet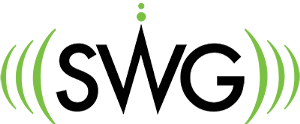 Why Choose SWG?
Top-Notch Support. When you have a problem that you and your team cannot solve, our knowledgeable engineers are on-call to help you solve the issue. We carry all major brands of fixed wireless equipment including Cambium Networks, Telrad, Mikrotik, Ubiquiti, and more. Because we offer both New and Certified Pre-Owned, we have solutions for every budget!