DESCRIPTION
Single or dual polarized standard and high-performance parabolic antennas
Radio Waves designs and manufactures Standard Performance (SP), High Performance (HP) and Super High Performance (SHP) series for terrestrial microwave point-to-point applications. These antennas support Telecoms, Enterprise and Industrial applications. They are available as single or dual polarized antennas and support standard frequency bands from 1.3 to 86 GHz. The products include 1 ft. (30 cm), 1.5 ft. (45 cm), 2 ft. (60 cm), 3 ft (90 cm), 4 ft. (120 cm), 6 ft. (180 cm) and 8ft (240 cm) diameter antennas.
Standard Performance Parabolic Reflector Antennas
Standard Performance non shrouded designs provide an economical point-to-point solution for applications that allow relaxed side lobe and front-to-back electrical operating characteristics. Radiowaves standard performance antennas are spun aluminum reflectors that feature cast aluminum mounts and are available with either plan (SP) or dual polarized (SPD) feed assemblies. Further these designs incorporate fine azimuth and elevation adjustments for ease of alignment. Standard models utilize optional ABS conical Radomes for reduced windloading and feed assembly protection.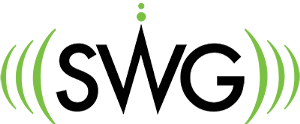 Why Choose SWG?
Top-Notch Support. When you have a problem that you and your team cannot solve, our knowledgeable engineers are on-call to help you solve the issue. We carry all major brands of fixed wireless equipment including Cambium Networks, Telrad, Mikrotik, Ubiquiti, and more. Because we offer both New and Certified Pre-Owned, we have solutions for every budget!